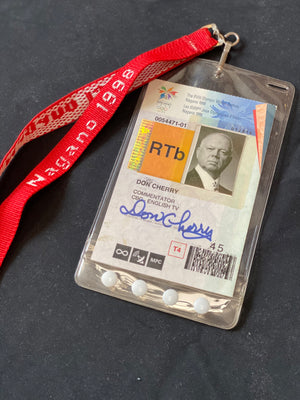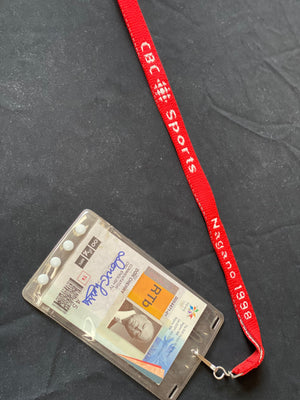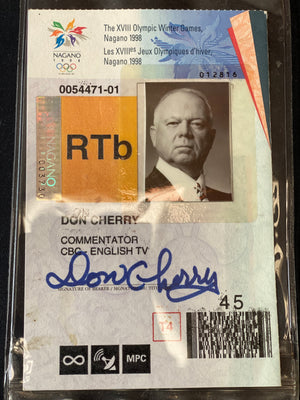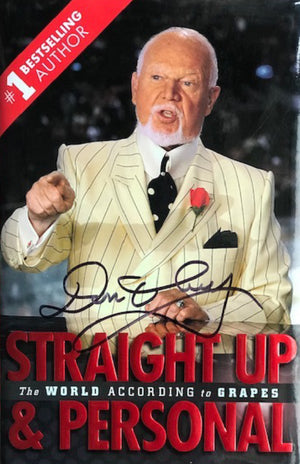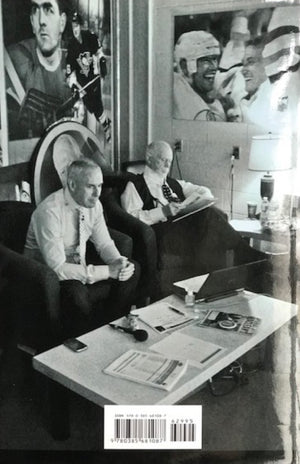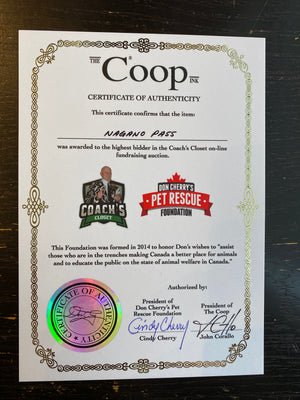 Product image 1
Product image 2
Product image 3
Product image 4
Product image 5
Product image 6
Don's 2008 Nagano Olympic Press Pass + Straight Up & Personal Book - LOT #14 SERIES 3
Don's 4th of 5 books released in 2014. Appropriately titled this book really gets into Don's personal challenges in his life. From his life with the "Darth Vader" of hockey, Eddie Shore, to him getting in hot water about his feelings about women reporters in the dressing room, plus describing his near death experience drowning on the St. Lawrence River. This book is one of his best as it describes, "the world according to Don Cherry".
-Have a piece of history with Don's Press Pass to the 2008 Nagano, Japan Olympics.
Don was in fine form there upsetting the Bloc Quebecois party members, while they complained there were too many Canadian Flags in the Olympic Village. Don of course had a response to that by saying, "They don't like the Canadian flag. You know it's funny, they don't want the Canadian flag but they want our money." He also said, "Then we pick a French guy, some ski guy that nobody knows about," referring to French-Canadian skier Jean-Luc Brassard, who was selected as Canada's flag bearer. No doubt, Don was in fine form there. 
Included With Each Auction
The winner of each auction will receive the following list of items included with :
Limited edition item as described 

The specific item / item's shown in bidding section

Certificate of Authenticity: Personally signed by John Corallo -President of The Coop &

Cindy Cherry

-President of DCPRF

All items autographed to your specification if desired by Don Cherry
This foundation was formed due to Don's vision of wanting to do more for those that have dedicated their lives to make Canada a more humane place for animals.

We accomplish this by: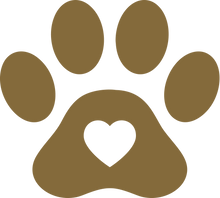 Providing financial assistance to the smaller, mostly volunteered groups with limited budgets & resources to achieve their goals.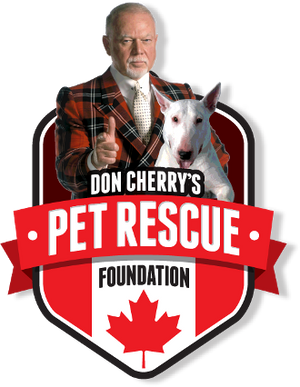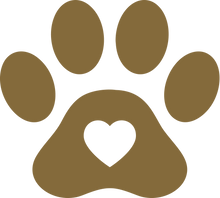 Providing educational awareness to the public concerning animal welfare in Canada.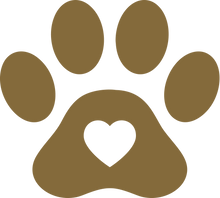 Providing "in-kind" items to organizations for their fundraising events.