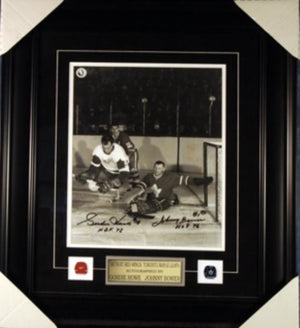 Product image 1

Product image 2
Product image 3
Gordie Howe , Johnny Bower Autographed Framed Print Donated Doug Laurie Sports - LOT #22 SERIES 3
Doug Laurie Sports
Simcoe County's source for sports & non-sports cards, sports memorabilia, autographs, custom framing & more!
400 Bayfield St.
The Kozlov Center
Barrie, Ontario L4M-5A1
705-503-2800
YouTube Channel:
https://www.youtube.com/channel/UCALj_P7280DBWavMcQBbG9w
Facebook: 
https://www.facebook.com/DougLaurieSports
We don't know who won this battle between these legends, but you'll score for sure with this beautifully signed and framed 11x14 of Hockey Hall of Famers Gordie Howe and Johnny Bower! Matted with engraved plate and Detroit Red Wings and Toronto Maple Leafs pins, this piece measures 25" x 21" in total and comes with a certificate of authenticity from Doug Laurie Sports.