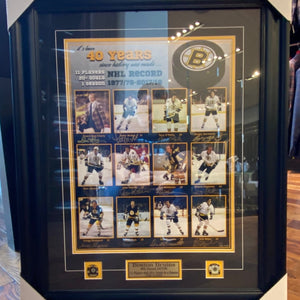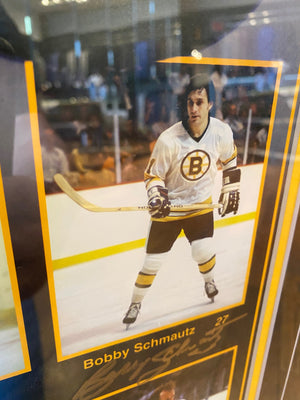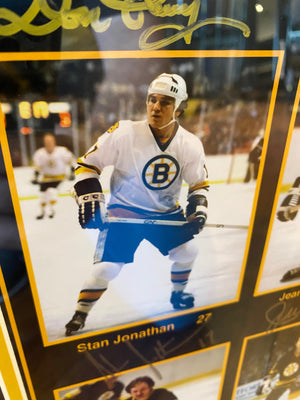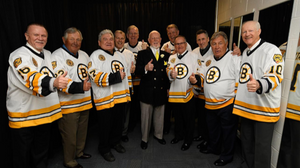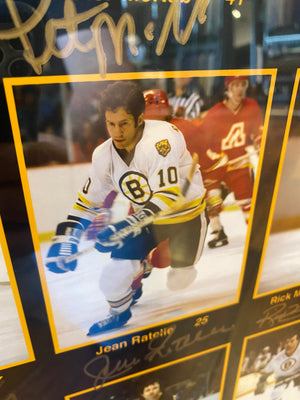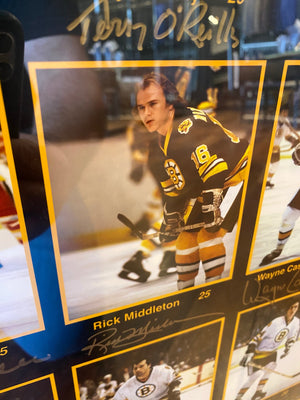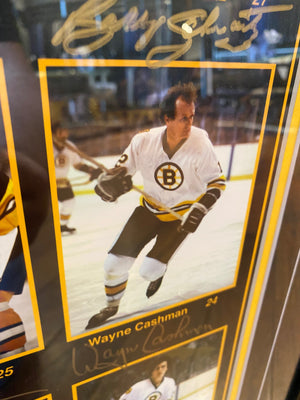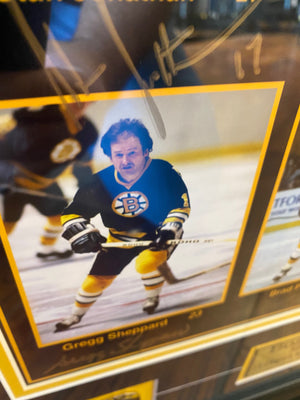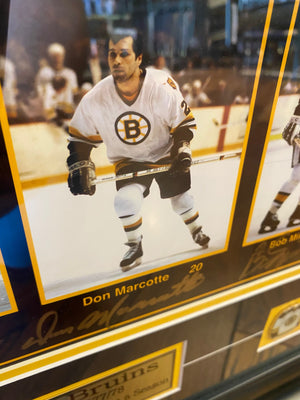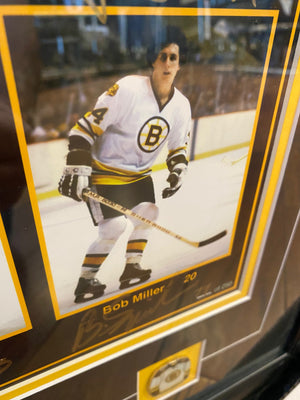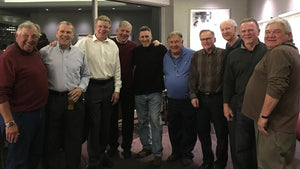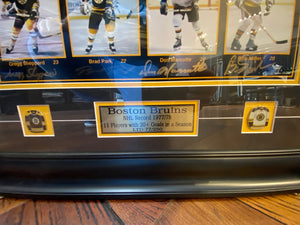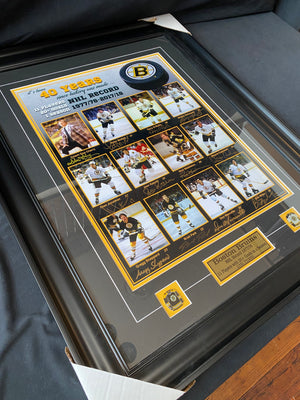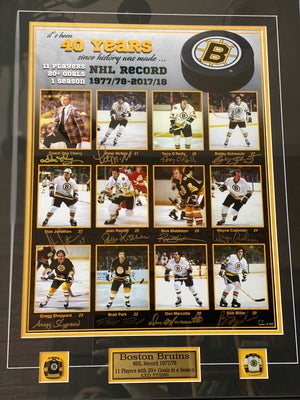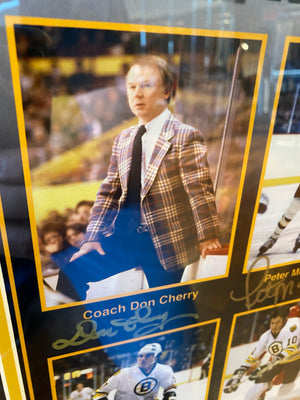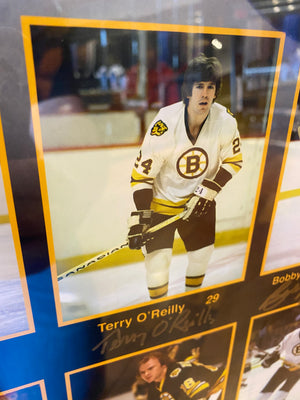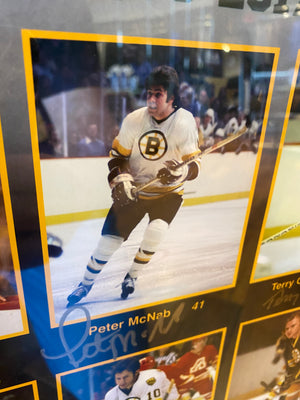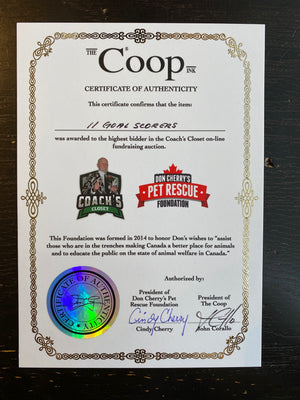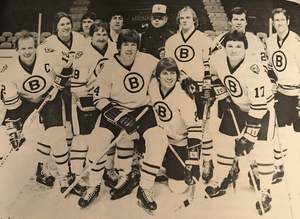 Product image 1
Product image 2
Product image 3
Product image 4
Product image 5

Product image 6

Product image 7

Product image 8
Product image 9

Product image 10
Product image 11

Product image 12

Product image 13

Product image 14
Product image 15
Product image 16
Product image 17

Product image 18
Product image 19
Product image 20

Product image 21
Product image 22
Bruins' Record Setting 11- Goal Scorers Poster- Signed and Framed - LOT #1 SERIES 3
The last player to get his 20th was Bobby Millar under unusual circumstances. Toronto's coach Roger Neilson pulled his goalie for a 6th man cause they were losing. But when the face off was in his own end, he still left the goalie out. Don specifically left Millar out there to get his 20th, which he did after thinking better as not to pass it to Bobby Schmautz.  It was quite the celebration on the ice when he scored, and no fans or commentators on TV could figure out why.

The black & white picture was a favourite in Don Cherry's Sport Grills to be asked to hockey trivia buffs that were always stumped. What significance was this picture? And if they got it, who didn't belong in it? And who was he replacing? (because he was not at practice due to a knee injury). Be the highest bidder, and we will tell you the answer.

One of the proudest records Don was ever involved in, was having eleven 20+ goal scorers on his 1977/78 season with the Bruins. You can contribute this fact as Don's team never ran up scores. When the game was well in hand, he'd played his 3 & 4th line on the power plays and penalty killers would get a regular shift. Plus, his team was well balanced, with not so many super stars.

When Don went down to Boston to celebrate its 40th Anniversary of such a still record holding feat, he was given some posters that were signed by all that were in attendance.  A very unique keepsake to say the least celebrating a record that will never ever be broken!

Watch the players talk about this feat:
https://www.facebook.com/watch/?v=10156170440719962
or watch the celebration on Feb.13,2018 here: 

Included With Each Auction
The winner of each auction will receive the following list of items included with :
Limited edition item as described 

The specific item / item's shown in bidding section

Certificate of Authenticity: Personally signed by John Corallo -President of The Coop &

Cindy Cherry

-President of DCPRF

All items autographed to your specification if desired by Don Cherry
This foundation was formed due to Don's vision of wanting to do more for those that have dedicated their lives to make Canada a more humane place for animals.

We accomplish this by: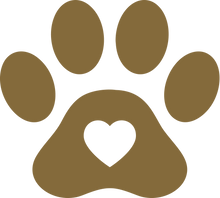 Providing financial assistance to the smaller, mostly volunteered groups with limited budgets & resources to achieve their goals.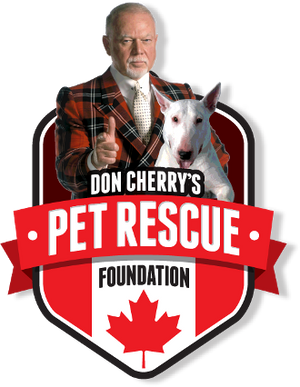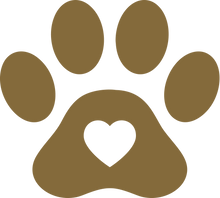 Providing educational awareness to the public concerning animal welfare in Canada.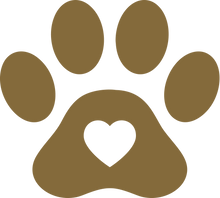 Providing "in-kind" items to organizations for their fundraising events.